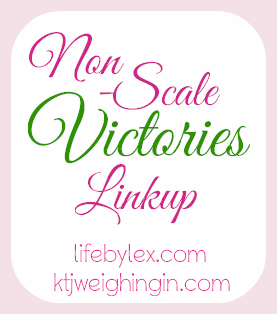 Happy Thursday Everyone!! It's time for another round of Non-Scale Victories Linkup with Myself and KTJ @ ktjweighingin. Don't forget to link up your Non-Scale Victories with us this week!!
I said last week in This post that my non scale victory of last week was joining weight watchers. And I think, you can really see a total scale victory in Monday's post.
I think that this week's non scale victory would be my ability and desire to find "healthy" alternatives to meals or activities that my friends and family are eating whatever they want.
Last Friday– my sister's birthday was the first example during my first weight watchers week that really showed this victory. We went out to dinner at Max and Erm'as– my family's Friday night hotspot. It's almost every Friday night that we go to Max and Erma's. Going there, I didn't know what I wanted to get because I pretty much always stick to my go to Buffalo chicken sandwich and fries. I never really took the time to read the menu because I always knew what I wanted.
On Friday I decided that I was going to stick to my WW plan and actual read the menu. I was basically between two options: Fish and chicken. I chose the fish with green beans and some potatoes. I was so happy with my meal and so glad I stuck to my plan. And because it was my sisters birthday M&E gave her 6 cookies for the whole table. I pulled my phone out immediately and looked up the nutrition for my whole meal (to see if I would have points left over for the cookie) and to see how much the cookie would cost me! I was so excited to see I could actually have the cookie and have 3 points left over! WIN!
Saturday, we decided to get some frozen yogurt. I was a little scared of how many points the yogurt would be but I was relatively low on my points for the day so I figured I'd be okay. I got there and it was only 3 points for a cup!! Score!! So I got my cup and then filled it with the fresh fruit they have and I even had enough points to give myself 2 tablespoons of chocolate chips. If you didn't read my HILARIOUS story from this yogurt run you NEED to read this post.
The final example was on my birthday on Monday! My coworkers have a tradition of always taking the birthday person to whatever place they want. I decided that I wanted to go to basically a stir fry place called BD's Mongolian Grill. Its basically a place where they give you a huge bowl and you fill it with whatever protein and veges you want. Then you pick a sauce and they grill the whole thing up for you. I was really excited to choose this place because I control literally every single thing that goes into my mouth. I can customize my bowl to whatever I want. Plus the one thing I REALLY liked is that they have the ability to create your own Bowl online and you can see the exact nutrition of everything you've put on your plate! I made a great bowl and was totally pleased with my choice. Then they get you basically whatever kind of dessert you want. Had I known about the amazingness of frozen yogurt I totally would have asked them to take me out for that– but this was monday of last week when I had to pick what I wanted. Anyway, I asked for a cookie cake. I figured this was basically the safest item to eat. I could have one piece and be satisfied! I tracked everything the night before so I knew exactly what I could have during the day.
So now lets hear your Non-Scale Victories!!